Review
Eastern Dane
And with a classic knight takes rook whammy, the computer finishes off SHAHRIZA HUSSEIN. Czech-mate ....
With most Western currencies so high against the ringgit, it's not surprising that local audiophiles, like their wine-loving brethren, are casting their eyes further afield.
One point of focus for quality audio is the more industrialised half of the former Czechoslovakia, the Czech Republic. We had a taste of what the Czechs had to offer during last year's AV Fest, in the impressive display of Kron vacuum tubes. And now in for review is a loudspeaker from a Czech company called Xavian Electronics.
Features
Proudly billed as "originally designed and handmade in the Czech Republic," the XN 125 is a bookshelf speaker that stands just 28cm high and 28cm deep at its base. Because the depth of the top is 4cm less than the base, the front baffle slopes downwards, presumably at as carefully calculated an angle as are Thiel speakers. With a width of 18cm, the entire speaker presents an external volume of just about a cubic foot. Weight, however, is a hefty 6.5kg, explained by the massive driver magnets and the thick cabinet panels.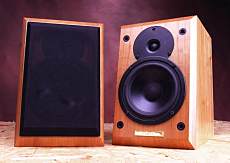 High quality is in evidence throughout. The carpentry is excellent, the finish and matching of the cherry wood veneer so exquisite that the surfaces look like identical twins. And one would spend a good minute admiring the rear panel, with its flush-fitted port and gold-plated terminals. The presence of four of these terminals is an invitation to bi-wire, either with spade lugs, bare/soldered ends or 4mm banana plugs.
This high quality approach would be wasted without commensurately high quality drivers. No let-down here. Xavian have not stinted, although it would have been more interesting if they had used proprietary units. Anyway, the drivers are from Denmark, the famous Peerless 130mm polypropylene woofer/midrange and the equally famous ScanSpeak 19mm impregnated fabric dome tweeter.
With that piece of knowledge, everything clicks into place! Were Xavian not loudly proclaiming that the XN 125 is made in the Czech Republic, one would not be able to tell it apart from a Danish bookshelf speaker. Any way you look at it, the XN 125 is a Kissin' Cousin of similarly formula'd speakers from a Denmark audio house, although certainly it's a chore to smooch across a thousand kilometres of Germany and Poland!
In other respects, the XN 125 is a standard high quality audio component, designed to work with commensurate ancillaries. Sensitivity is rated at 85dB (a bit on the low side) but it is no fusspot like the Rogers LS3/SA. However, as we shall see, it has its own prima donna traits.
Performance
The XN 125 replaced my Thiel CS2.2's in the audio chain, with everything left in place (Luxman L570x amp, Sony DVP-S7000 DVD/CD player and vdH interconnects) except for the speaker cables, which I changed from a single MIT to two pairs of QED Qudos 8 because of the bi-wiring facility.
The information leaflet, totally in Czech, recommended raising the speakers to between 60cm and one metre (believe it or not, I got a native Czech speaker, a certain Dr Ivor, to help with the translation--cost me a high tea) and I used 30-inch metal stands. Again cued by the instructions, I set the speakers 2.5m apart, a metre from the nearest rear surface, and angled them so that their axis met a metre from my listening position. All in all, it's a classic arrangement, and should have worked fine.
But so sorry lah, it didn't. At first, I thought the harshness and not-quite-right sonic balance (Slavic accented Danish?) was due to the speakers coming fresh out of the box. There was some truth in that, but while a full week of burning in got rid of some of the harshness, the sonic imbalance still persisted, albeit much reduced. What I could not completely eliminate was the speaker's tendency to "shout" at the slightest excuse-- the midrange is that untamed. A change of cables to vdH Clearwater (single wiring) cured that, but also took away too much of the midrange liveliness. Ditto the use of a long-forgotten pair of Supra wires; actually the result was worse.
With no immediate help forthcoming from the Star boys in the way of alternative speaker cables (Hey, you didn't ask!--Ed.), I had to live with what I had on hand, and so it was back to the single-wired MIT. It was a compromise, but at least the XN 125 didn't display any nasty traits.
That was only Chapter One of the bother I had with this speaker. Chapter Two concerned placement, and I took a long time moving those darned units around. Finally, for best soundstage and coherence, it was about two metres apart, the left unit closer to me, and both speakers angled in for the axis to cross right where I was sitting! I could rock back and forth only about a foot and about the same distance on either side to keep the soundstage steady.
Getting everything "perfect" took me the better part of two weeks, which left me only a few days to actually do some serious listening before Hardy called to take the speakers away.
Well, I can safely report that the XN 125 is not much different in character from a high quality Danish bookshelf speaker like the Avance. Its major attributes are excellent clarity and definition, firm and strong bass (there's not very low bass, but what's produced above that is clean), a rock-steady soundstage, with impressive "layering" of the instruments, and good attack.
The troubling areas are the midrange and treble. The midrange is a bit too prominent, and there is the earlier mentioned tendency for the speaker to "shout" (though much less so with the MIT than the QED). As for the treble, there exists an element of steeliness which tends to make violins sound strident.
It should further be remarked that the amplifier in use is known for being somewhat laid-back. If this characteristic produces in the XN 125 such a sharp response, one can only imagine how brash the speaker would be with some of the more aggressive amplifiers! On the plus side, though, the XN 125 should find favour with rock fans-- it can be really pushed. It should also please lovers of C&W-- the banjos and dobros really startled.
Conclusion
This speaker is a bit of a pain--at least in my own set-up. So I will not say that the XN 125 should be overlooked; its quality of build alone attests to its seriousness as a musical instrument. Rather, by all means audition this Czech creation, but do so with due attention to the ancillaries. Who knows, this speaker may just turn out to be the best buy of your hi-fi life.
Model: Xavian XN 125 loudspeakers
Price: RM3,000
Review sample courtesy of OCTAVE ELECTRONICS (03-793-7939), 81 Jalan 1/12, 46000 Petaling Jaya, Selangor / E-mail: octave@pc.jaring.my, Website: http://welcome.to/octave/
For: Superb build and unusual styling, clear and highly detailed sound, limited but controlled bass.
Against: Needs suitable ancillaries, fussy about placement, probably requires dedicated stands.
The alternative test-drive report, from the desk of SUJESH PAVITHRAN:
Perhaps because I was able to drive the Xavian XN 125 with a variety of amps, my conclusions differ--some of them significantly--from those of Shah. But I have to concur with him on the build quality and finish, which are excellent. Although the price is relatively high for such a small cabinet, you're assured top-notch parts (like the Danish drivers); the cosmetics are also aesthetically pleasing.
The XN 125's footprint is narrow, so there's some awkwardness when placing them on stands, but once they're firmly BluTac-ed in place, you won't have to worry about stability.
Over the two months that I've had these speakers, I've run them with amps like the Krell KAV-300i, KR Enterprise 18 BSI, Unison Audio Simply Four and Audiolab 8000S, using Straightwire Black Silk, Nordost Flatline and van den Hul The Wind cables. Sources included Audiolab 8000CDM and Theta Data transports, and Audiolab 8000DAX and Theta ProPrime D/A converters.
The first time I heard the Xavians were in the Octave showroom. My immediate impression was that I was listening to a medium-sized cabinet; imagine my surprise when I realised how tiny these boxes were!
At home, the impression was consolidated on all the combinations I used. True, there's the occasional hint that the speakers need some taming, but because of the nature of the amps I used--most of them are tubed jobs--and the sort of music I played, they sounded larger-than-life rather than wild.
Bass is superb--taut and cohesive, even if it doesn't go down to the nether extremes. I can't recall the last time I heard such quality bass reproduction from a mini-monitor.
Simple acoustic recordings are interpreted brilliantly, lending an air of intimacy and immediacy to the proceedings. Vocals are projected fairly well out to the front, ahead of the instruments, and there's sometimes a sharply-etched quality about both the midrange and treble that make recordings sound crisp and sparkling.
Also impressive is the manner in which the XN 125s handled complex drum recordings--you've simply got to try the Patricia Barber cover of Miles Davis' Nardis (from the Cafe Blue album) on this, pushing the volume up a tad. The speakers never strain with dynamic and forceful drum routines, even if busy passages can sound confusing. But the impact and brazen nature of the drum solo is reproduced in all its dynamic glory.
This, certainly, isn't a speaker for the faint-hearted or disciples of neutrality. It's a bit of a zinger, yes, but with a valve amp driving it, you'll spend long hours re-discovering some of your jazz and blues CDs.
Can I live with it long-term? You bet. I doubt the XN 125s will ever tire me out. These speakers are really great, if space is at a premium. Ah yes, I didn't have the benefit of a Czech translator, but the usual shifting about made me arrive at about the some positioning parameters described by Shah.
In my opinion, the Xavian XN 125 may not be all polish, but it certainly has style ... an uncut gem, surely.
| AudioFile | AVMail | Archive |
AudioFile © 1998, Star Publications (Malaysia) Berhad (No. 10894-D)