click here for technical information
Black Gate Standard Models


Made of quality materials through the use of sophisticated automated equipment. In this case, no magnetic material is used. Low E.S.R. compared with conventional electrolytic capacitors. Excellent even at low temperatures. Suitable for all kinds of electronic equipment. Can improve the S/N ratio of the equipment and lower distortion. Capacitance tolerance ±20%.
Black Gate C - Very Low-Noise Type For Coupling


Designed for coupling between circuits with a direct-current potential difference. Features better leakage and distortion characteristics than tantalum capacitors. Lead lines fixed with resin for resistance against shock noise. Capable of transmitting signals at a high level of performance in a small electronic device. Suitable for use in high-gain pre/main amplifiers, small audio systems, and video systems.
Black Gate FK Series - High Performance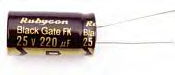 Successfully eliminated ion distortion and also non linear distortion which is inevitable with conventional polarised electrolyte capacitors because of the non-reversibleness of the electrodes. Keeps the total amount of distortion down to –150db or less. Comparable with high-performance film capacitors. Suitable for all types of electronic equipment including audio systems, video equipment, OA equipment, communication equipment and military devices.
Black Gate N and NX - Compatible With Both AC and DC

Developed based on the concept of the K series. A family of completely symmetrical electrolytic capacitors. Functions in the same manner as film capacitors within the withstanding voltage. A compact, large-capacity package which film capacitors are not capable of. Can realise new types of high-performance equipment requiring NF circuits, coupling circuits and bias circuits, etc. The NX series further improved performance of the N series.
Black Gate NH Series - Compatible With Both AC and DC.
Jelmax has again developed a new and surprising product. Operation voltage of non-polarised Black Gates is extended to 160V and 350V at one time. This enables the AC operation which is impossible for the general capacitors and lossless rectifying and smoothing of AC power supplies. It is, therefore, expected to provide a revolutionary devices with this product.
Black Gate WKZ (DC) Lug Terminal Type
Developed for use in Hi-Fi vacuum tube amplifiers . Unrivalled as regards the transparency of high-frequency bands and the low resolution and presence of mid-to-low frequency band. With a diameter of 35mm, this series is compatible with conventional products.
Black Gate WK - Power Tank
In addition to all the tremendous performance of non-polarised capacitors, the WK series offers high voltage operation. The POWER TANK is an innovative capacitor capable of handling high voltages and currents. It has a long life, an asymmetrical, non-polarised construction and a compact body.
Black Gate PK - Very Small High-Performance Series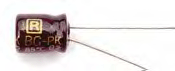 A family of very compact capacitors capable of delivery the high performance of large models. Suitable for use in all types of electronic equipment including OA equipment, communications equipment, communications equipment, illumination equipment, etc.


Black Gate BG-NX Hi-Q


JELMAX have recently introduced a new, very small Black Gate type capacitor known as BG-NX HI-Q which are non-polarised, noiseless capacitors based on an electron transfer, and are classified as a new genre. These capacitors have a patented structure in which fine graphite particles are distributed in a separator provided between the electrodes and including electrolyte. Ion Transfer inside the capacitor is converted into an electron transfer in operation, and as a result has a noise level of –174kb by measurement with distortion meter CLT-1 EX. This level is the lowest in the world. The noise level generated by them is lower by 40 to 50db than that generated by Tantalum and Organic semi-conductor (OS-CON).
A general guide for CD/DVD/SACD player Black Gate upgrades :-
1) Replace all de-coupling caps(usually 0.1uf) around decoder & DAC chips with BG NX-Hi-Q.
2) Replace all power supply caps(both digital and anolog) with BG NX/FK.
3) Replace signal output coupling caps with BG NX.
Black Gate - Prices & Sizes
Part Number

VOLTS
(DC)

CAP VALUE (µF)

MODEL
TYPE

DIAMETER
(mm)

LENGTH
(mm)

10
100
PK
6.3
7.0
35
33
PK
6.3
7.0
50
22
PK
6.3
7.0
100
2.2
PK
5.0
7.0
50
0.1
NX-Hi-Q
4.0
7.0
50
0.47
NX-Hi-Q
4.0
7.0
6.3
22
NX-Hi-Q
5.0
7.0
6.3
47
NX-Hi-Q
6.3
7.0
6.3
100
NX
6.3
11.0
6.3
220
NX
8.0
11.0
6.3
470
N
12.5
24.0
6.3
470
NX
12.5
24.0
6.3
2200
NX
18.0
35.0
10
1500
NX
16.0
24.0
16
33
N
6.3
11.0
16
100
N
12.5
20.0
16
470
N
16.0
24.0
25
1000
NX
16.0
24.0
35
680
NX
16.0
24.0
35
4700
N
40.0
40.0
50
1.0
N
5.0
11.0
50
4.7
N
5.0
11.0
50
10
N
8.0
11.0
50
47
N
12.5
24.0
50
100
N
16.0
31.0
50
1000
N
22.0
35.0
100
330
N
18.0
36.0
100
2200
N
30.0
100.0
160
100
NH
22.0
25.0
160
220
NH
30.0
25.0
350
68
NH
35.0
25.0
350
150
NH
35.0
35.0
50
1.0
C
5.0
12.5
50
2.2
C
5.0
12.5
50
4.7
C
6.3
12.5
50
10
C
8.0
13.0
50
47
C
10.0
21.5
16
47
FK
10.0
12.5
16
100
FK
10.0
16.0
16
220
FK
12.5
20.0
16
470
FK
16.0
25.0
16
1000
FK
16.0
31.5
25
100
FK
10.0
20.0
25
220
FK
12.5
25.0
35
2200
FK
18.0
35.0
50
1000
FK
22.0
40.0
63
2200
FK
30.0
50.0
63
10000
FK
40.0
100.0
80
10000
FK
50.0
75.0
100
100
FK
18.0
35.0
50
10
AC
16.0
36.0
50
47
AC
25.0
51.0
200
220
WK
30.0
25.0
500
100
WKZ
35.0
65.0
500
47+47
WKZ
35.0
65.0
500
100+100
WKZ
35.0
120.0
350
100+100
WKZ
35.0
60.0
350
220+220
WKZ
35.0
100.0
16
10
STANDARD
5.0
11.0
16
22
STANDARD
6.3
11.0
16
33
STANDARD
6.3
11.0
16
47
STANDARD
8.0
11.0
16
100
STANDARD
10.0
12.5
16
220
STANDARD
10.0
20.0
16
330
STANDARD
12.5
20.0
16
470
STANDARD
12.5
25.0
16
1000
STANDARD
16.0
25.0
16
2200
STANDARD
16.0
31.5
16
3300
STANDARD
18.0
35.5
16
4700
STANDARD
18.0
35.5
25
1000
STANDARD
16.0
36.0
35
4700
STANDARD
40.0
40.0
50
10
STANDARD
8.0
11.0
50
33
STANDARD
10.0
16.0
50
47
STANDARD
10.0
16.0
50
100
STANDARD
12.5
20.0
50
220
STANDARD
16.0
25.0
50
330
STANDARD
16.0
31.5
50
470
STANDARD
16.0
35.5
50
1000
STANDARD
22.0
42.0
50
4700
STANDARD
40.0
50.0

100

4.7

STANDARD

n/a

n/a

100

10

STANDARD

n/a

n/a

100

22

STANDARD

n/a

n/a

100

47

STANDARD

n/a

n/a

100
100
STANDARD
16.0
25.0

100

220

STANDARD

n/a

n/a

100

470

STANDARD

n/a

n/a

160

33

STANDARD

n/a

n/a

160

100

STANDARD

n/a

n/a

160

470

STANDARD

n/a

n/a

250

3.3

STANDARD

n/a

n/a

250

10

STANDARD

n/a

n/a